This piece has been edited from a Toastmasters speech that I wrote.
What do you see?
A square right.
Let's give this square a bit more power.
And it becomes a cube.

And you know what this becomes in real life?
Does anyone know what these are?
A stack of post-its. Or Stickies. Or sticky notes. Or squares of power as I like to call them.
Most people think of stickies as these inconsequential sticky pieces of paper that we use to jot down notes quickly and throw away. And honestly, for the longest time, I thought the same. But as I've grown older, I've realized that these little squares hold so much power.
But to really understand the power of stickies, we have to take a step back into time and understand how and why they've come about.
In 1968, Dr. Spencer Silver, a scientist at 3M (Minnesota Mining and Manufacturing Company) was attempting to develop a super-strong adhesive. Instead, he accidentally created a "low-tack", reusable, pressure-sensitive adhesive. For about 5 years, Silver shopped his idea to everyone within the company. In 1974, a colleague who had attended one of his seminars, Art Fry, came up with the idea of using the adhesive to anchor his bookmark in his hymn book during Wednesday night choir practices. Fry then actually developed the idea.
The funniest thing is that the original notes' yellow color was chosen by accident, as the lab next-door to the Post-It team had only yellow scrap paper to use.
3M marketed the sticky notes under the name "Press 'n Peel." The finally branded to "Post-Its" in 1979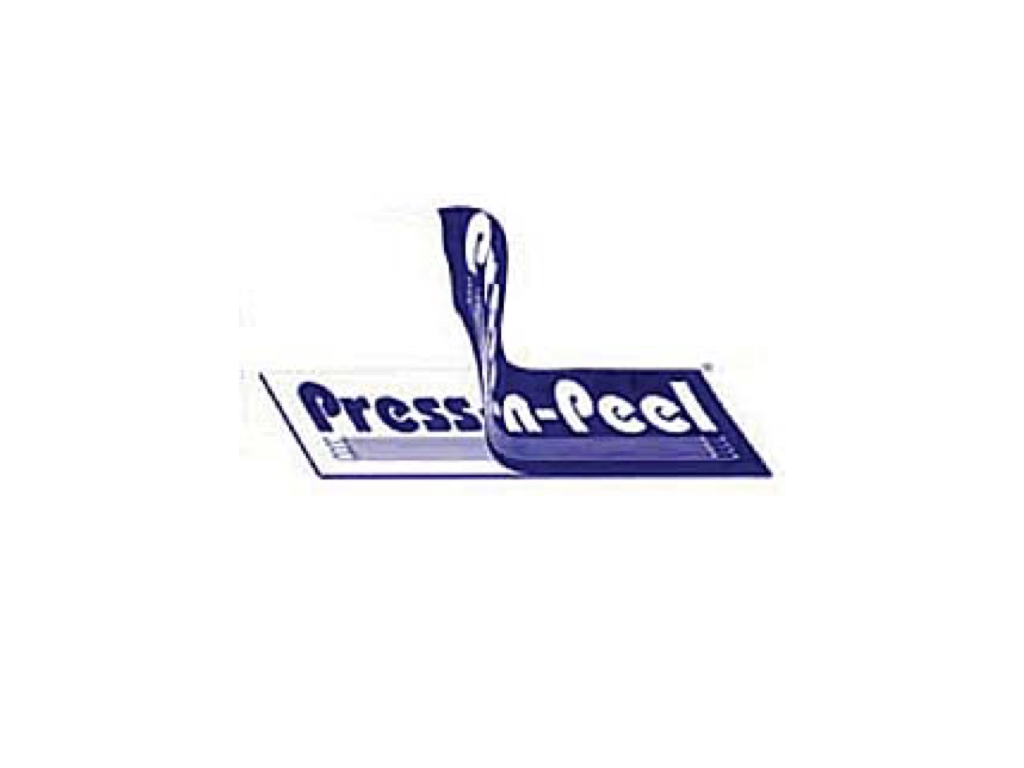 Since then, not only has 3M come up with different collections of colors of stickies

They have transformed this piece of paper. From super sticky post-its.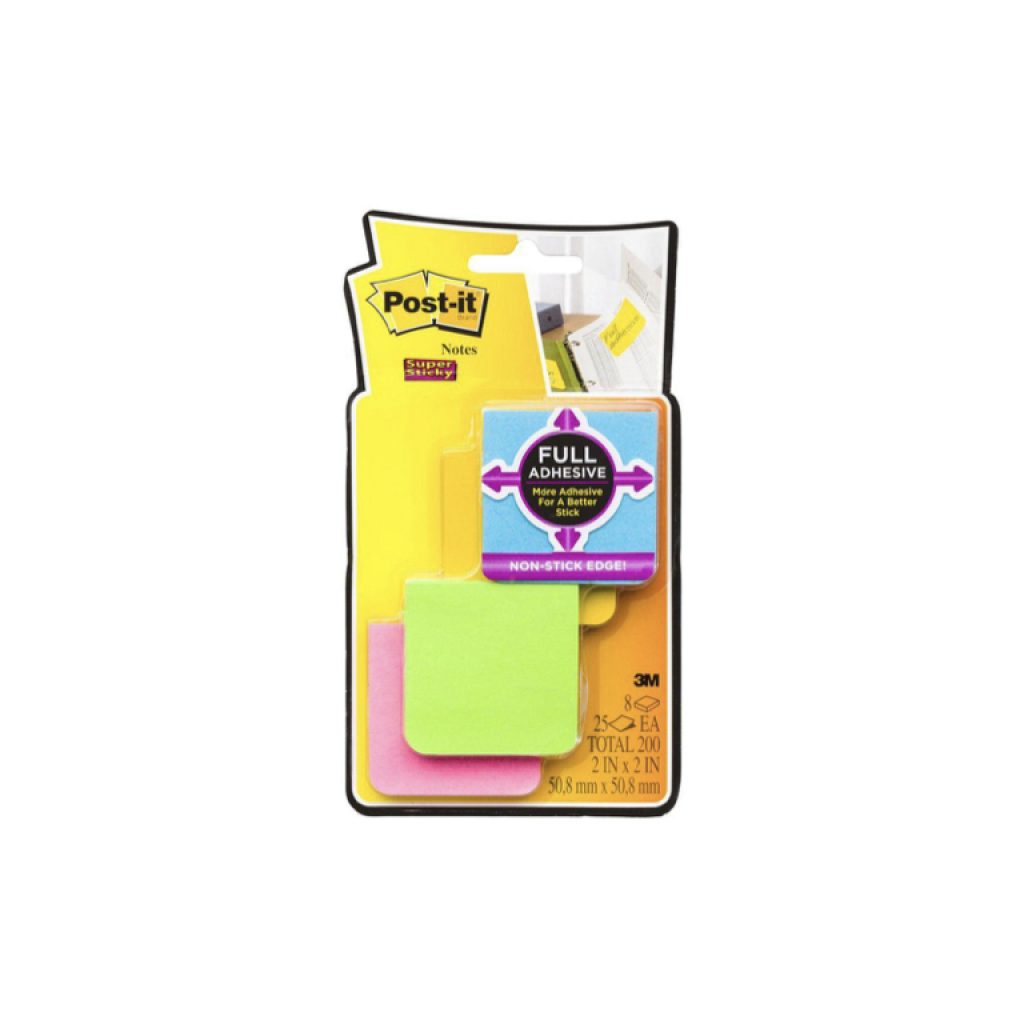 To fully adhesive
To the ones they released last year called "Extreme" which are literally water-resistant and designed for work environments like construction and manufacturing.

And of course all sizes known to human kind

But it's not about the vast types or kinds of sticky notes in the world that makes them powerful (although quantity is one way to gain power), it's the way that they are used.
To being a dust catcher, a cable marker, or even a work of art.

And if we take a step back and really think about it, a Post-it is a cache for information that will not stick elsewhere — like in your brain. "Outsourced neurons" or "prosthetic memory" is what Dan Heath, a business consultant and teacher calls them. Something about handwriting on a tangible item gives us the power to connect that haven't been replaced by phones or artificial assistants.
Whether you view these domestic telegrams as signs of dysfunction, the decline of face-to-face communication, there is the plain fact that sticky notes have become a part of modern communication culture.
An clear example of this lies in how we've skeumorphized stickies in the digital world as well.
Skeumorphism is a trend within tech where an object in software mimics its real world counterpart. For example, a trash can is where you throw the things you no longer want. Similarly, on a computer, you have "Trash" for the files you don't want. From Post-It notes in real life, we've created virtual Post-It notes on desktops across all computer systems. Real post-its are the basis for some of the most popular productivity tools used today such as Evernote, Google Keep, and OneNote.
So clearly these square of power have a place in our society and culture today. Most often they are used for brainstorms as a low cost way of collaboration. For that reason, I wanted to leave you with a few tips and tricks about using sticky notes in a brainstorming setting.
1. The way you pull the sticky note matters!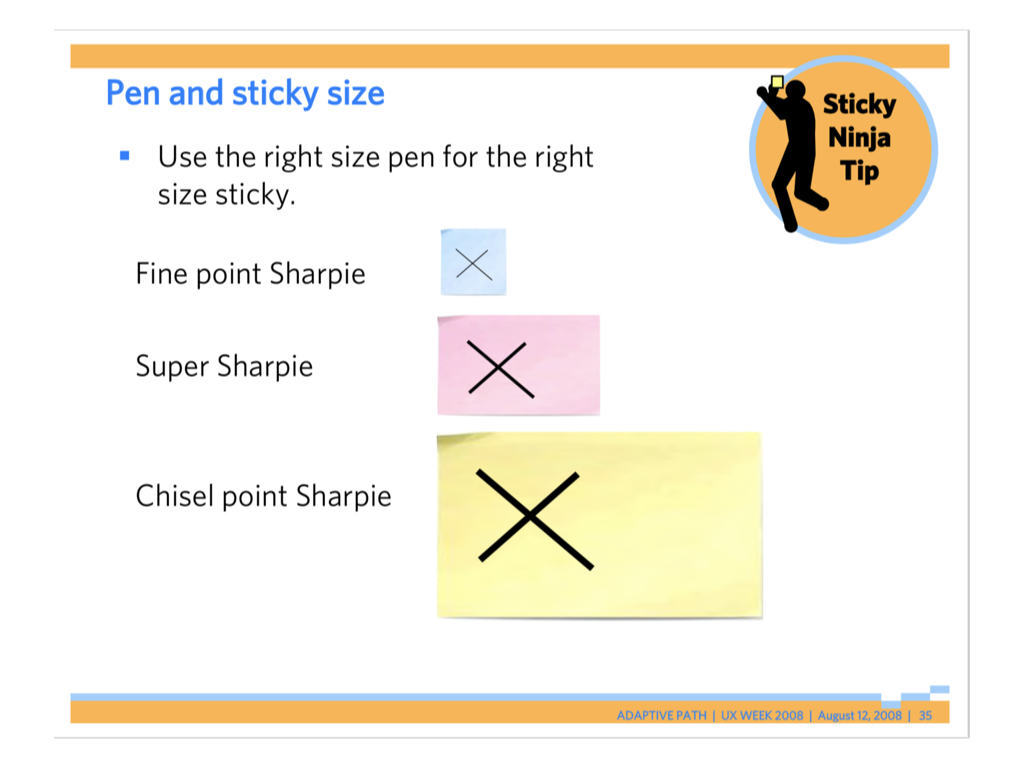 2. Always write with a sharpie on a sticky note.
This is essential because if you step away from your sticky notes and want to take a picture, you have to be able to capture the writing on it
3. One idea per sticky
By having one idea per sticky, you can actually do a better job of separating and grouping ideas together
4. DRAW on your stickies!
There's a lot you can fit into a sticky!
And while you may not make the world's most valuable "stickie", which sold for auction for 640 pounds in 2000 by R B Kitaj rest assured, I hope I've set you on the path to "Sticky Note Nirvana".
Whether you're trying to learn a new language and put up a sticky in the bathroom to stare at while you're brushing, or you're leaving a cute lunch note for your loved one in their brown bag, I hope you value these little squares of power that have become so engrained in our daily life, culture, and way of communication.